How The Recent Changes in Education Policy 2020 Will Impact Students
So most of you might already know the kind of changes that have been proposed by the government in the context of the New Education policy 2020. The latest changes in the education policy don't just impact school systems and teachers, but they primarily and mainly impact you. If you haven't quite understood how the changes in Indian education policy might play out for you, or you don't feel that it might really have any impact on you at all, you might want to read this blog for through information on how this education policy is about to work its wonders on your education!
Firstly, having the right educational partner is extremely crucial when it comes to any kind of learning. At Tutoratti, we believe that online coaching should be made extremely personalized and affordable since it is all set to be the next big thing in the country.  Our personalized online and offline coaching sessions, effective learning material, and experienced educators, all contribute to an exceptional coaching experience that you can be a part of. Coaching JEE, NEET, CET, 10th and 12 Boards students for years together, in Maharashtra at Pune (Sinhagad Road, Kondhwa, Aundh, Camp, and Kothrud), Pimpri Chinchwad, Raigad-Panvel, and Navi Mumbai-Kharghar, we can help you channel education into a greater future!
Now that we know what this blog holds for us, let's understand what kind of impact the recent changes in educational policy will have on us, as students!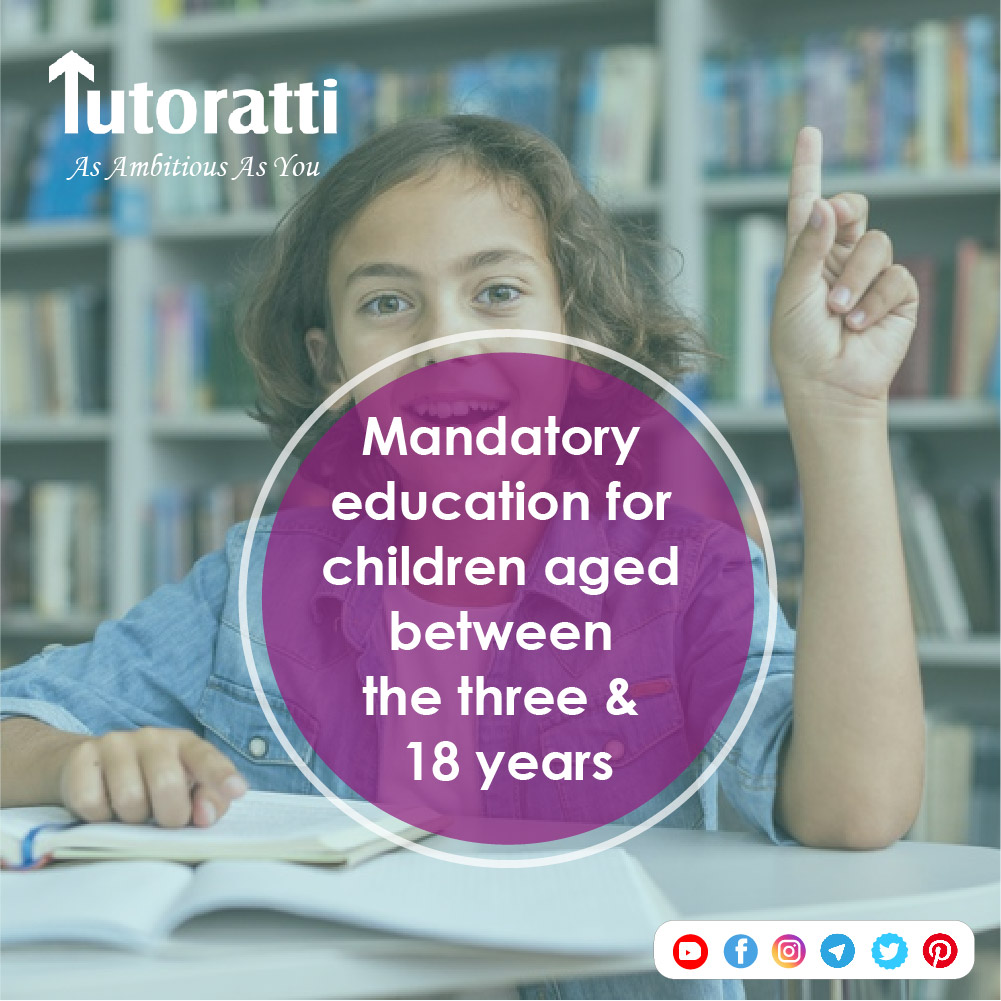 Mandatory education for children aged between the three and 18 years:
Earlier, schooling was mandatory for children aged between six and 14 years. Now education will be compulsory for children aged between the three and 18 years. This move would allow those aged from 14-18 years to also demand the same Right to Education(RTE) that was earlier present only up till 14years. Now children above the age of 14 too can demand this. Meaning they can get educated up to 12th grade free of charges at any government educational establishment.
International structure of school education (5+3+3+4):
Introducing 3 years of pre-schooling, the National Education Policy 2020 has taken a similar approach to the Cambridge and IB streams, which also offer dedicated Primary Year Programs.
Dismantling the age-old 10+2 concept, the policy pitches for a "5+3+3+4" design corresponding to the age groups 3-8 years (foundational stage), 8-11 (preparatory), 11-14 (middle), and 14-18 (secondary). This brings early childhood education (also known as pre-school education for children of ages 3 to 5) under the umbrella of formal schooling. This way, CBSE is on the same level as other international curricula. The new system will have 12 years of schooling with 3 years of Anganwadi/pre-schooling.
Progressive Assessments:
The Indian education system has always been criticized for its note learning and memory-based assessments of students. A hurdle in the growing importance of a progressive and global approach to evaluation, this system was extremely redundant and needed alterations. Now, ending that structure, there's a major shift from summative assessment to a more competency-based regular assessment that tests analysis, critical thinking, and conceptual clarity.
Mother Tongue Mediums and Three-Language Policy:
Due to this, children are able to grasp trivial concepts easily. This will be made compulsory until 5th grade at least or preferably until the 8th.
The NEP also includes the three-language policy. Here all students will learn three languages in their school. It is mandatory that at least two of the three languages should be native to India.
The introduction of this policy is also in line with the NEP's aim of increasing the Gross Enrollment Ratio in higher education. It has been found that the inability to cope with languages like English as the cause of dropping out.
Vocational Internships:
According to this, students will participate in a 10-day bagless period. During this period students from Grades 6-8 will intern with local vocational experts such as carpenters, gardeners, potters, artists, etc. This was another move, that was hugely appreciated as necessary professionals that are looked down upon by society will finally be viewed with newer outlooks in the coming generations. This move will also enable children to pick up at least one skill during the period.
Multi-Stream Flexibility:
Once the NEP is imposed, the compartmentalization of students post 10th into Arts, Science and Commerce will be blurred. Now students will be allowed to take up courses from varied streams depending on their interests. For eg., A student interested in physics will be able to do so by also taking up subjects like economics and politics. This was one of the most lauded moves of the NEP. Furthermore, Bachelor's programs too will be multidisciplinary in nature with no rigid separation between arts and sciences.
Common Entrance Tests for Colleges
Students now will be judged by common SAT (present in the US) like tests that will decide the eligibility of students for different colleges. These tests will be held twice in a year.
Fee Cap
The New policy suggests a cap on the fee charged by private institutions in the higher education space. One of the major hindrances a student faces when trying to obtain quality higher education has been affordability. A fee cap imposed would go a long way in making education more equitable.
These and several other positive pointers will revolutionize Indian education, to result in a positive impact for you, as students. So, partner with us for a seamless switch towards this new education policy!