COVID-19 And Its Impact on Indian School Education: What Has Changed!
While the world faces an unprecedented pandemic, education never stops. Thanks to online modes of education, COVID-19 hasn't caused a horrible blow to learn online for most students living in major cities. Although this setting is majorly impossible for millions of children in India to access, it does have potential and a few positive impacts. When schools began to close in March this year, the only options that remained were education portals that were set to provide school education as well as online coaching for several other courses. To look at what sort of a positive impact the coronavirus policy has had on education, and subsequently on education portals, here's what you need to know.
First things first, having the right educational partner is extremely crucial when it comes to online learning. At Tutoratti, we believe that online coaching should be made extremely personalized and affordable since it is all set to be the next big thing in the country.  Our personalized online sessions, effective learning material, and experienced educators, all contribute to an exceptional online coaching experience that you can be a part of. Coaching JEE, NEET, CET, 10th and 12 Boards students for years together, at in Maharashtra at Pune (Sinhagad Road, Kondhwa, Aundh, Camp, and Kothrud), Pimpri Chinchwad, Raigad-Panvel, and Navi Mumbai-Kharghar.
So, without further ado, let's look at the positive impacts that COVID-19 has sparked when it comes to online learning via education portals!
The Sheer List of Benefits
There are several advantages that online learning provides when compared with the traditional methods of learning.
Online learning can be accessed from the comfort of one's home—especially during the COVID-19 outbreak
In a world of ever-increasing education costs, online learning saves a lot of money
In a time-crunched lifestyle, self-paced learning helps save time
Lectures can be repeated any number of times
Content can be updated instantaneously
Lessons and evaluation results are quickly delivered
Digital learning has less impact on the environment.
It democratizes education—anyone with an internet connection has access to information and materials
Blended Learning For the Future
Now that school education has also taken its course online, the future will propose more blended formats of learning wherein offline and online education will be intertwined with each other. What will happen is the continued adoption of digital learning along with the resumption of traditional paving ways for a hybrid learning environment.
As e-learning becomes more advanced with artificial intelligence, virtual reality, and natural language processing among others, a major part of the classroom experience can be replicated to some extent.
Opening Up Digital Learning For Everyone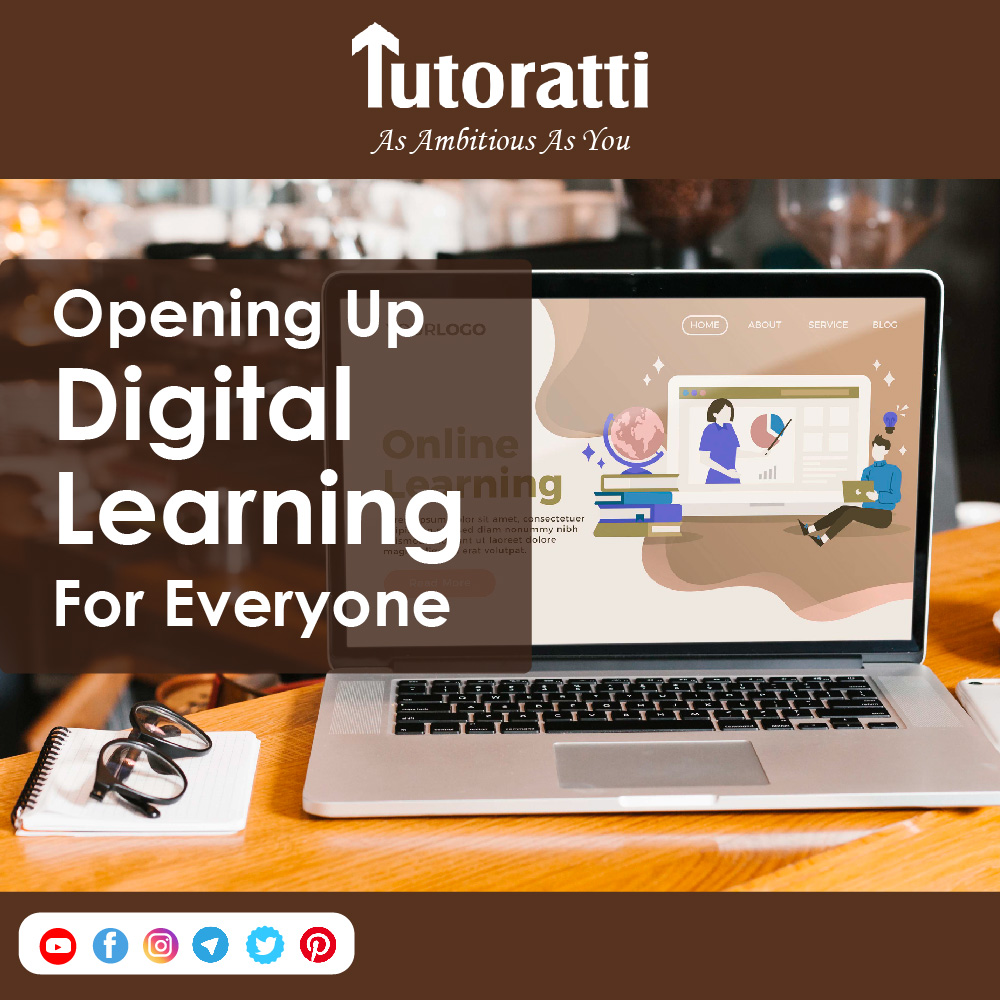 In a great impact that will potentially help both- education portals as well as children who already have access to digital devices and networks, e-learning experiences have now opened up to new users who are in dire need of help during the crisis.
Greater Affordability and Offers
In a bid to attract students as well as equip them with all the right study material at extremely affordable rates, several education portals have made their services a lot more accessible for students during the pandemic.
The impetus to AI and VR
With a rapid need for advanced online coaching, a constant search for better ways to communicate with students online has gone underway. With the number of users poised to increase multi-fold in the near future, many education portals are finding it the right time to invest in AI-powered marketing technologies to take e-learning experiences to the next level amid increasing competition. These headways are helping brands grow their metrics from acquisition to activation to retention and revenue while delivering meaningful multi-channel experiences, driving growth and loyalty.
Use of Asynchronous Learning Programs
The barriers caused by pandemic have encouraged educational institutions to use asynchronous learning programs. Asynchronous learning is student-focused. It allows learners to complete courses without the compulsions of being present at a particular time or place. Learners can share the idea, feedback, and query with educators and fellow learners, but, they may not receive an immediate response.
Using Audio-Visual Analytics
These platforms check mindful and unconscious developments and student's availability through suspicious browsing activity. It helps to spot oddities in a snap, caution or block the candidate, and avoid fraudulent activities to ensure a cheat-proof process.
The New Educational Normal
Now is the time to shed all traditional styles of teaching and follow the advanced skills. It's time for all educators to reinvent themselves. The educator must adopt digital transformation by learning to access smartphones, tablets, and computers to encourage online lectures and smart classes. This ill help them in the long-term as the future is all about e-learning, where teaching will prefer remote and digital platforms.
With these impacts and a whole bunch of benefits of online education, it is truly time to make the switch! To have a truly fruitful online education course that helps you ace your boards and competitive exams, get in touch with us now!