Pre-plan for JEE 2021 During The Pandemic
"You cannot change the direction of the wind, but you can adjust your sails to reach your destination."
This year's attempt is done and over with, it's all about the next attempt in 2021 now. As of now, all of us are truly unaware of when the pandemic will be over, and when our movements will be free, but this doesn't mean learning and teaching must end. With all JEE Coaching now going online, it's time to get your preparation switched to the lockdown mode, especially with these full-proof JEE Tips in the pandemic.
So your target is set, and all that you need to do next is find the best possible way to reach it. Since this journey to your final target can be quite cumbersome, it is always wise to choose IIT JEE coaching in Pune that can equip you with some of the best JEE problem-solving tips. Tutoratti is one such coaching institute that provides the best learning tools for your JEE syllabus and ensures that students are provided the best educators to ace their JEE Advanced, as well. You can find our JEE Coaching Online, or at one of our centers in Maharashtra at Pune (Sinhagad Road, Kondhwa, Aundh, Camp, and Kothrud), Pimpri Chinchwad, Raigad-Panvel, and Navi Mumbai-Kharghar.
And now, coming to the most crucial bit, let's take a look at some of the best JEE tips you can incorporate into your pandemic preparation for JEE 2021.
Give Your Timetable a Refreshment
If you haven't done it already, throw your regular timetable out the window, and draft a new one. Make a schedule that suits your new, home-body life and center it around your JEE online coaching. Also, put forth more slots to study those topics which you feel require more time and are important. Follow this time-table every day, and make sure you give yourself a break at least once a week. While it must be difficult for students to study without having access to daily classes and lose focus of their schedule. At this point in time, it is necessary to keep calm and patient and follow a systematic schedule to ensure effective preparation and best use one's productivity.
Choose JEE Coaching Online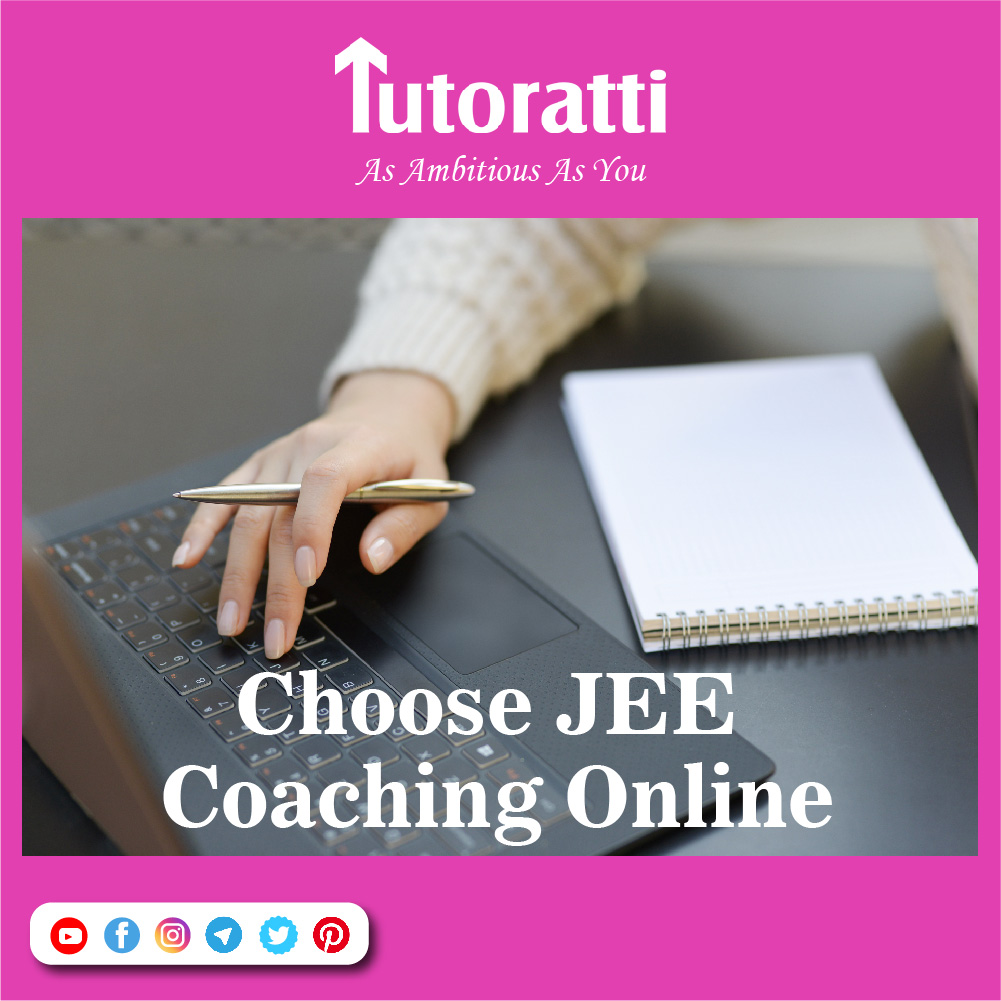 Going online is your safest bet now. With better visual sessions, bite-sized education, and one-on-one sessions with educators, this is a great alternative to keep learning during the lockdown. Online platforms are available that provide a virtual classroom ambiance with complete notes, expert opinions, online classes, mock tests, etc for best student preparation. Tutoratti is one such portal that helps you learn by staying in the safety and security of your homes and ensures better learning outcomes, saves time, and increases accessibility at the same time.
Take Tests
Don't just study, take tests. Mock tests play an important role in making familiar with strong and weak areas. To analyze your preparation, students are advised to take mock tests. There are numerous tests you can access online, once you sign up with Tutoratti's Online JEE coaching.
Methodically planned revision and taking daily mock tests will help to overcome weaknesses, increase speed and accuracy, and keep you well updated with the current trend and pattern of the examinations.
Solve Questions and Revise
Success in a competitive examination like JEE is directly proportional to the number of problems solved by you. More than number, it is the quality and variety of problems which matter.
Solve quality problems covering all types and patterns in past years. Cracking JEE requires clarity of concept, applications, and analytical skills. It is critical for you to keep practicing and revising old concepts which will help you assess your knowledge, find out the weak spots, and then work on them accordingly. It is also helpful to use this time for solving previous year question papers and taking mock tests for gaining a better clarity of the examination.
Stay in Touch With Your Educators
Online platforms such as Whatsapp, Skype, Microsoft teams, etc can help one stay connected with peers and teachers and receive all the relevant updates and information regularly such as study notes, syllabus, exam guidelines, preparation tips, etc on the go.
Another way in which students can ensure seamless preparation is by opting for tech-enabled, digital learning platforms like Tutoratti, which will allow you to learn by staying in the safety and security of their homes and ensure better learning outcomes, save time and increase accessibility at the same time.
Always be assured of the fact that persistence is the key to success. It's time to adapt to changes happening around you. For more such interesting and inspiring blogs, be sure to browse through our website! So, start your journey towards success with the right inputs and teachings surrounding your JEE mains syllabus. For more information about our online coaching, visit the Tutoratti website, or call us on +91-8484818247.