The Best Ways To Study During The Lockdown: How The Lockdown Can Actually Help You Study!
It has been months since you've been in a natural study setting, and that might be affecting your self-study a lot. It truly can be a tough task adjusting to such sudden changes but now that we are well into 7 months since the lockdown first started, we must be aware of how our studies are going. The most important fact to remember when it comes to education during COVID-19 is the fact that even if all else seems to have come to a standstill, all our exams are still on, and at this point, you might have even given a few already. Considering this is it extremely important to re-center your focus and get to using the best tips on how to study during the lockdown.
Even though you may or may not be able to get access to your classroom coaching this year, there's always a way to keep in touch with your educators via online coaching. To help you out in the final preparations and provide you with the best of tests for the ultimate revision, Tutoratti is here for you! Tutoratti is one such coaching institute that emphasizes on how to fight fatigue when studying and ensures that students are provided the best guidance, both online and offline. You can find one of our centers in Maharashtra at Pune (Sinhagad Road, Kondhwa, Aundh, Camp, and Kothrud), Pimpri Chinchwad, Raigad-Panvel, and Navi Mumbai-Kharghar.
Now, coming to the most important part, let's get right into how to study during the lockdown in the most effective way possible.
Early To Bed, Early To Rise
Makes a man healthy, wealthy, and wise- is a common phrase you might have heard your parents say. Well, now that the lockdown has been going on for months, it is extremely important to discipline yourself so that you can set yourself a timely routine. Get into bed early without assuming that you have the entire day to study. When you sleep late and wake up late, you might end up feeling lazy and tired all day, which affects your concentration. Wake up early with a fresh mind, and get a fresh start. One of the best habits successful people have is that they start their day early. Make your bed, every single day as you get up, say some positive affirmations to yourself, and start the day with a bang. Do some mild exercises, freshen up, and get ready for having a fulfilling day.
Make A Timetable
Just because you have nowhere to go, no college to attend, and no coaching classes to travel to, that doesn't mean your exams and studies are going to wait for you. Make sure you chalk out the perfect timetable that suits your lockdown routine and keeps you in a regular time frame all day, every day. Make a realistic timetable covering all your subjects- Try and practice at least 3 subjects on a daily basis. Paste the timetable right in front of you so that you are aware of whether you are on track or not. Practice writing more and more.
Monitor your progress and self-evaluate weekly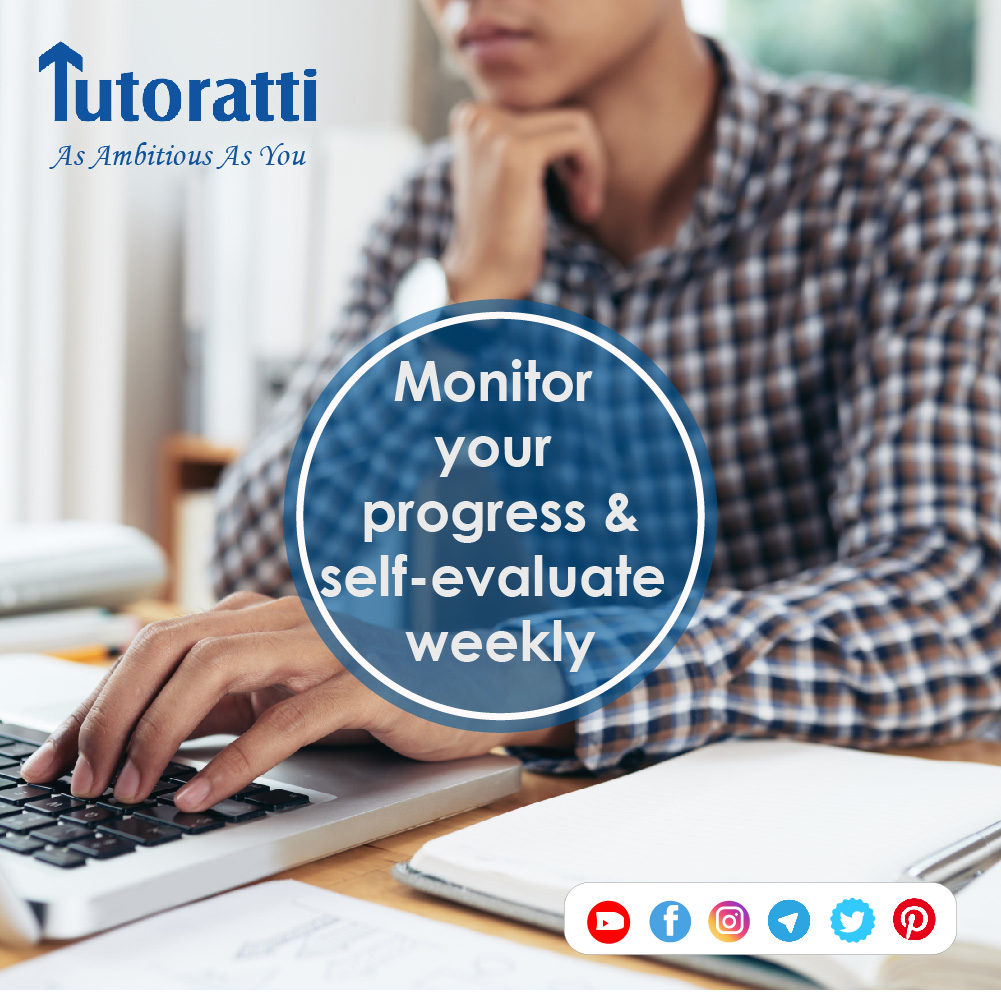 Make sure you are keeping tabs on how much portion you are covering, and whether or not you are solving your tests in time. Make sure you set your weekly goals and check them on one particular day each week. This way, you'll not have to worry about any last-minute preparations at all!
If you are happy with your progress, everything will fall in place eventually. And remember, Do not let what you cannot do or learn or understand interfere with what you can. Push your limits and keep telling yourself that "You can do it!"
Call Out Your Time Wasters
Instagram, Whatsapp, and Facebook can be your biggest time wasters, especially now that no one is monitoring your habits except your parents, who may not be able to keep a watch on you at all times. Discipline yourself and control your consumption patterns. Try keeping your phones away or shut them off while you're studying. Set aside a specific time to browse through social media and binge-watch your favorite shows. Make sure these habits don't affect your studies and keep checking on yourself every now and then.
Create Your Happy Place
Put up motivational posters, set up your special artifacts, and create a space that you can call your own. Make sure the area is relatively quiet and away from the disturbances at home while having adequate light to support your visuals. Take a day to decorate it, have your calendar, timetable, some motivational thoughts, and anything that keeps you in high spirits around you. Have good lighting so that you do not strain your eyes. Have a good study chair. Never sit/lie on the bed and study.
Now that you know these helpful tips on how to study during lockdown, make sure you follow them throughout your JEE/NEET preparations to keep your spirit up! Good luck and hang in there! YOU GOT THIS!