Online Education: The Biggest Trends You Need to Know in The Covid-19 Era
Online Education– a term that has seen the good, bad, and ugly in the past few months, is in fact a blessing in disguise. When optimized correctly, online education gives educators and learners some of the best insights, without having to make any commute. Online education in India had started taking shape a few years back but is extremely imperative today when classroom education has been barred for months altogether. If we move past the various glitches in online learning, it is truly commendable, how many benefits of online education there truly are for a child.
Reading stacks of papers and highlighting essential sentences with markers are all things of the past. The future is online! The internet has revolutionized most industries. Whether you're looking for food, or grocery items, and now top-notch education, you can find all of them on the internet. This being said, having the right educational partner is extremely crucial when it comes to online learning. At Tutoratti, we believe that online coaching should be made extremely personalized and affordable since it is all set to be the next big thing in the country.
Our personalized online sessions, effective learning material, and experienced educators, all contribute to an exceptional online coaching experience that you can be a part of. Coaching JEE, NEET, CET, 10th and 12 Boards students for years together, at in Maharashtra at Pune (Sinhagad Road, Kondhwa, Aundh, Camp, and Kothrud), Pimpri Chinchwad, Raigad-Panvel, and Navi Mumbai-Kharghar.
Now that we're ushering in the era of online education, let's check out the biggest trends that you'll be exposed to in your online education journey in India:
Microlearning: Catering To Shorter Gen Z Attention Spans
Micro learning is the latest trend in the online education world. It combines the two things we love the most – relevant and exciting information in small portions. Most people can't pay attention to anything more than a couple of minutes or hours at a time, and this goes for most students. Micro learning is the practice of short-term strategies for learning, skill development, and improvement. To put it in layman terms, it's learning bite-sized information, one step at a time. Micro learning is shaking the education world and revolutionizing the way we process information.
This is why Tutoratti features quick learning videos with visual cues that are topic-based, short, and easy to understand.
Visual Learning
VR technology and visual learning are one of the newest additions to the global education trend. It's prevalent in most aspects of virtual technology and online learning. It exhibits unmatched potential when it comes to education. When a method, thesis, or theory is brought to a "real" life via visualization, it's far more likely to make a significant impact. Humans are highly visual creatures, and learning through watching something is the next logical step in education. This is why we believe in creating exclusive visual cues for students to grasp concepts through our online coaching videos. Better visual aids always mean better grasping and retention.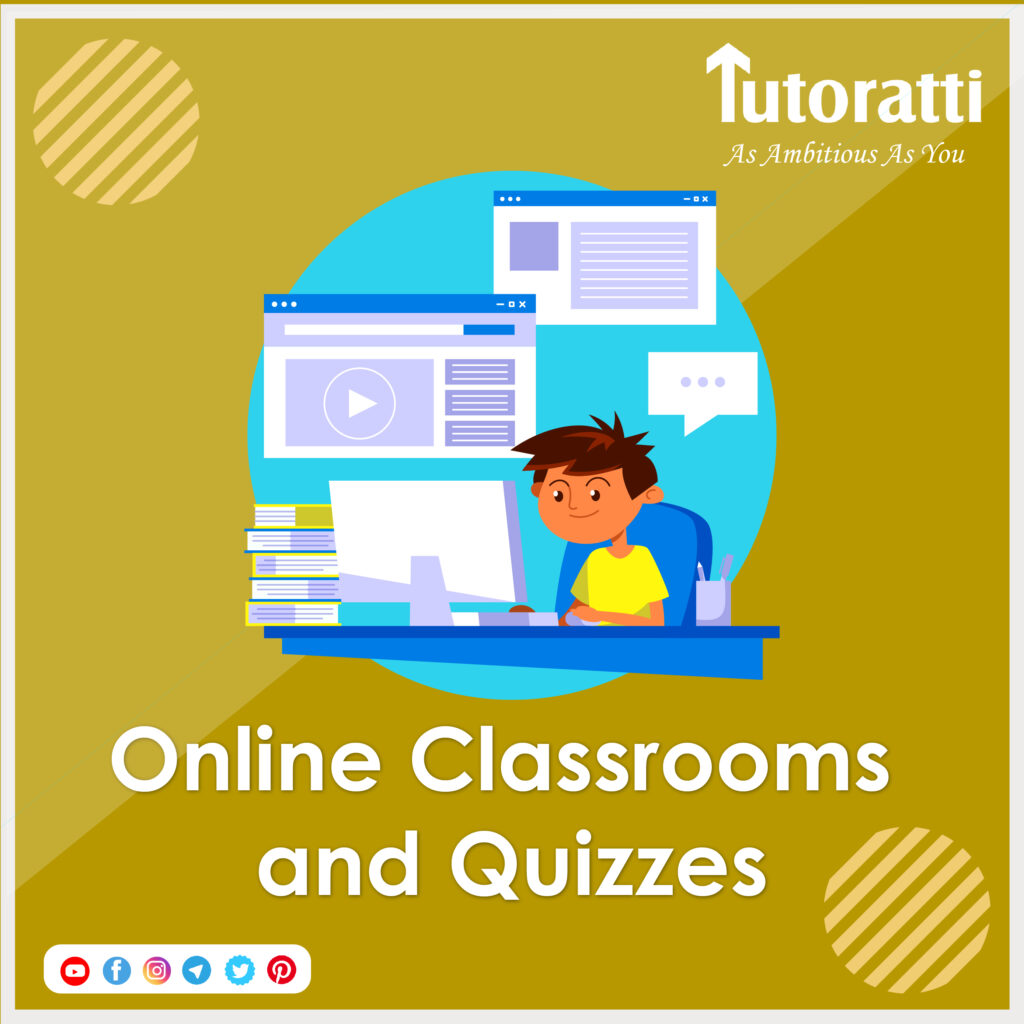 Online Classrooms and Quizzes
Online classrooms and courses have been a trend for quite some time now, and only seem to be intensifying. Training and learning through the internet are brought in several shapes: fun games, fun courses, and exciting quizzes.
One of the most popular tools that educators can use to create engaging, fun, and interactive quizzes for their students. Students report that they enjoy solving stimulating quizzes far more than learning from books. Quizzes and tests promote learning in one's own free time and provide a deeper level of education to those who seek it. Studies show that quizzes help improve learning and knowledge retention. This is why we sport numerous tests and quizzes, along with personalized coaching and doubt-clearing sessions for students to stay interactive.
Muti-Device Learning
Training and learning have always been time-consuming. More often than not, employees report that they can't get enough time for proper training. Luckily for educators, the introduction of smartphones has given people another platform they can use to learn. Mobile phones are in our pockets most of the time and can be used as a learning platform on the go.
Cross-platform learning means making educational content accessible to all platforms that we utilize. We use a lot of different platforms in our day-to-day life, and the mobile phone is probably one that we use the most.
The fact that an employee is going to take his phone anywhere he goes is going to promote learning. When people are given something convenient, they're far more likely to use it. The Tutoratti app can be used on various devices in the comfort of your timing!
With these trends and a whole bunch of benefits of online education, it is truly time to make the switch! To have a truly fruitful online education course that helps you ace your boards and competitive exams, get in touch with us now!