A Weekly Timetable for JEE Students: How To Study
Now that the JEE Mains 2020 is done and dusted, it's time to get to the grind for your next attempt, or for your JEE advanced. If you are just starting this journey, there's no time like now to read this blog so that you can draft the perfect timetable for yourself. It is quite often conventional to think you need to study all day long, given that the JEE Main syllabus is quite tough, but that isn't true. If you divide your time well and begin well in advance, your JEE journey will be extremely smooth sailing!
So your target is set, and all that you need to do next is find the best possible way to reach it. Since this journey to your final target can be quite cumbersome, it is always wise to choose IIT JEE classes in Pune that can fit into this timetable, whilst giving you the best education to crack your JEE. Tutoratti is one such coaching institute that provides the best learning tools for your JEE Main syllabus and ensures that students are provided the best educators to ace their JEE Advanced, as well. You can find one of our centers in Maharashtra at Pune (Sinhagad Road, Kondhwa, Aundh, Camp, and Kothrud), Pimpri Chinchwad, Raigad-Panvel, and Navi Mumbai-Kharghar.
Now that you are starting afresh, let's set a new perspective after the JEE Mains 2020, and let's make a timetable that we can call our own!
YOUR DAILY TIMETABLE DURING THE LOCKDOWN/HOLIDAYS
In cases when you don't have to attend college, this is how your timetable should look. Make sure you follow this timetable at least 6 days of the week. You may dedicate an entire day to engage in extracurricular activities and a little fun and frolic, without studying as much as you do otherwise. You deserve a break from those piles of your JEE Main syllabus!
From 7:30 – 8:00: Wake up, Freshen Up, Say Your Daily Affirmations and Start Your Day on A Positive Note! Make sure you are done eating a little something to get your energy replenished, and have a quick bath to stay fresh and cool.
From 8:00 – 10:30: Study New Topics, Build Strong Foundations.
From 10:30 – 11:00: Have a heavy breakfast and try reading the newspaper to stay updated on the current happenings. Make sure you get into the habit of reading some Science and Tech news as well!
From 11:00 – 2:00: Study a topic that you had started from the JEE Main syllabus the previous day, from a different subject, say Math.
From 2:00 – 3:30: Have lunch and go for a quick power nap to get a top-up on some energy.
From 3:30 – 6:00: Start solving mock tests of the chapters you have studied, or go ahead and solve sample papers if this isn't your first attempt and if you are done with your JEE Mains 2020.
From 6:00 – 6:45: Take a short break, get some exercise, or play a sport and be sure to catch up with friends/ talk to friends over the phone.
From 6:45 – 8:45: Now that you have three whole hours, try finishing one whole topic, if it's smaller as compared to the others, from any subject you want. You can even do this for your JEE Advanced prep.
From 8:45 – 9:30: Have your dinner and use the rest of your break as a dedicated screen-time. Use social media only during this break. Try keeping your phone away when you are studying.
From 9:30 – 11:45: Revise all that you have learned.
From 11:45- 12:00: Decide what topics and subjects you are going to target for the next day.
Lastly, if don't feel sleepy, unwind for some time, watch web series or do something you like for half an hour at the most. Remember not to sleep too late since you have to start your next day at 7:30!
YOUR DAILY TIMETABLE DURING COLLEGE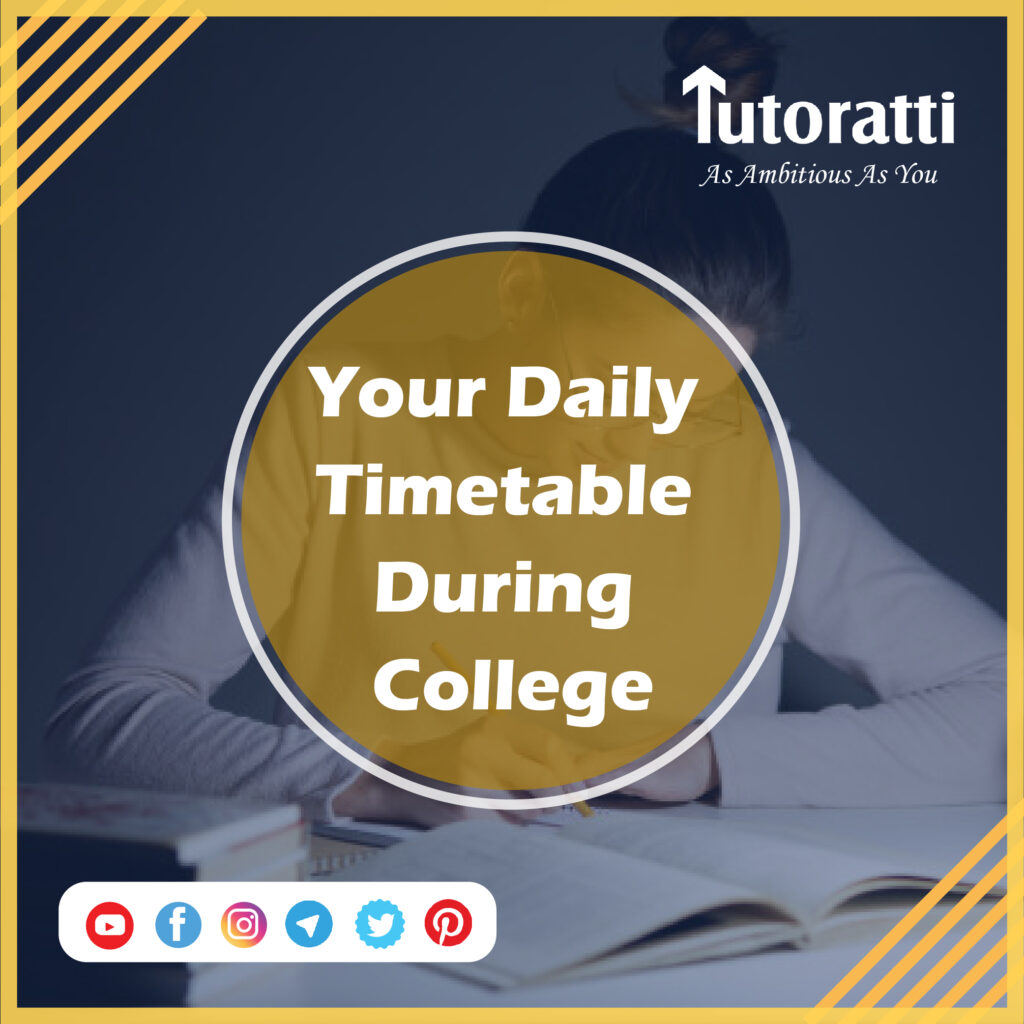 When you're in college, it is crucial to know how to manage your JEE Mains syllabus while attending lectures, attending tuitions, and doing assignments. To help you out, here's a full-fledged timetable!
Wake up at 7:30 am, freshen up, eat something light or drink water, and chalk out a plan for the entire day.
8:00 – 1:00: Attend lectures or tuitions
1:00- 2:00: Get home, have lunch, and rest for a while
3:00 – 5:00: Study a new or old topic, depending on the plan you have carved out.
5:00 – 6:00: Take a short break, get some exercise, or play a sport and be sure to catch up with friends/ talk to friends over the phone.
6:00 – 6:30: Memorise and revise important Formulas and equations
6:30 – 8:30: Study a new or old topic, depending on the plan you have carved out.
8:30 – 9:15: Have Dinner and talk to your friends or family
9:15 – 11:15: Learn new topics and concepts
11:15 – 12:00: Complete pending assignments
12:00 – 12:30: Plan for the next day and go to bed on time!
There you have it, a brief overview of how you can plan things when you start your JEE prep, right from the beginning, or even mid-way! For more such interesting and inspiring blogs, be sure to browse through our website! So, start your journey towards success with the right inputs and teachings surrounding your JEE mains syllabus. For more information about our online coaching, visit the Tutoratti website, or call us on  +91-8484818247.