How To Answer 'What Are Your Weaknesses?' in an Exam Interview!
Many competitive exams like the KVPY require you to go through an interview round based on your written scores. These interview rounds are extremely crucial since they are the deciding factors of whether or not you'd get through and crack the exams. Out of all the interview questions, some might throw you off a little. One such problem you might face is how to answer weakness in an interview. This question might seem difficult but is a great way to stand out once you figure out the best weaknesses to say in an interview.
As far as the pattern of the exam is concerned, once you successfully give your theoretical paper, you are required to go through an interview. Before you get started with any kind of interview prep, the first step you might want to consider before jumping in is to choose your preferred coaching classes in Pune, that might be able to help you out with how to answer weakness and strength in an interview. One such excellent institution is Tutoratti. Providing the best educational tools as well as the best ways to crack your interview, Tutoratti has centers across Maharashtra at Pune (Sinhagad Road, Kondhwa, Aundh, Camp, and Kothrud), Pimpri Chinchwad, Raigad-Panvel and Navi Mumbai-Kharghar.
It is obviously very difficult to be vocal about your weaknesses, especially in an interview wherein you are supposed to outshine the others with your positive points. But fret not, because, with these tips, you'd be able to figure out the best weaknesses to say in an interview.
Choose a Good Weakness: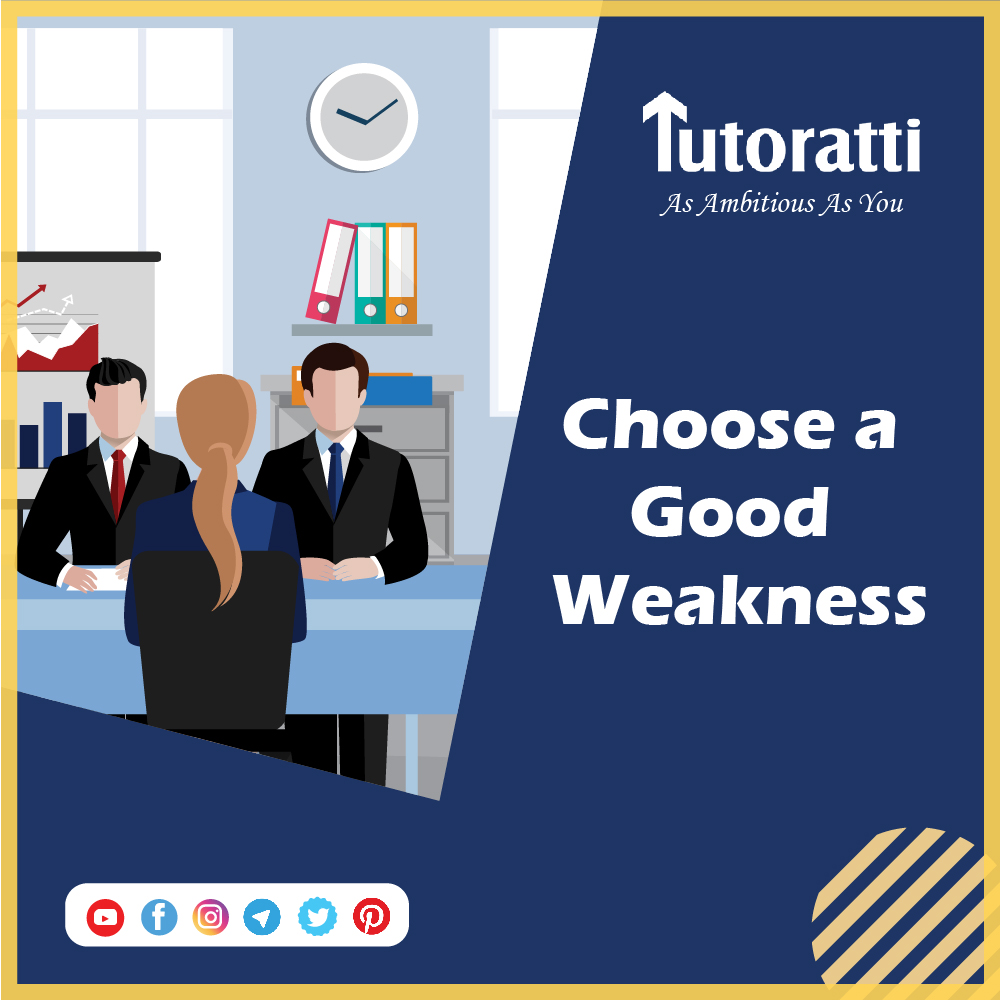 Yes, by weaknesses, your interviewer obviously wants to know something that doesn't sound corny or cheesy. Don't go for obvious answers like 'I am too sincere', "or I am too hard-working'. Instead, turn your pet peeves into something interesting. Package your weaknesses to sound witty so that you can answer any follow-up question without being caught. So wherever you're asked about weakness and strength in an interview, don't go for the obvious…choose a good weakness.
Keep it Real:
Keep your answer as authentic as you can, without sounding rude or off-putting. Don't select a weakness just because it sounds good or seems like it can make an impression. That doesn't necessarily mean you have to share a weakness that makes you look bad. If you're like most of us, you have several weaknesses and at least one of them will be interview-friendly, and not go on the offensive. This is by far the best way to approach how to answer weakness in an interview.
Think hard and get to the bottom of it. Make a list, perhaps, and get short-listing!
Pick a weakness that is acceptable to the kind of exam you are attempting to crack:
Be aware of the requirements and predispositions you require to have as the perfect candidate for the interview, and don't cite a weakness related to any of the required skills or desired qualities. If you're giving your KVPY interview, don't talk about hating math and a topic in science or lack of attention to detail. Choose your words carefully so that the interviewers know you have the right temperament and skillset for the career path you've chosen.
Select a weakness that is "fixable":
Yes, you read that right. While looking for the best weaknesses to say in an interview, make sure you choose minor ones that can be fixed or those that don't really matter to the field you are undertaking. By fixable, we mean, choose something you can improve through work and motivation. For example:
Fixable: "I get nervous when speaking in front of large groups."
(You can get better through practice and learning new skills — and this is a common development area.)
Describe your weakness in a concise, neutral way:
Don't get into the details of your weakness, unless you are asked a follow-up question.
Be brief and, most importantly, avoid sounding defensive or overly negative. Make sure you keep it crisp and subtle without ranting about the weakness so that you can stay in a positive zone without sounding like you are hung up on this weakness of yours. Move on fast. Don't invite cross-questioning.
Now that you know the kind of tips you need to put forth the best weaknesses to say in an interview, here are a few examples that might help you understand better:
My greatest weakness is that I sometimes have a hard time letting go of a project. I'm the biggest critic of my work, and I can always find something that needs to be improved or changed.
My greatest weakness is that I sometimes have trouble saying 'no' to requests and end up taking on more than I can handle. In the past, this has led me to feel stressed or burnt out.
My greatest weakness is that I get impatient when projects run past the deadline. I'm a stickler for due dates and get uncomfortable when work is not completed on time.
Because I am independent and enjoy working quickly, it has been difficult for me to ask for help when I need it. I have learned that it is much more beneficial both for me and the business to reach out when I do not understand something or feel burned out with my workload.
Because I truly love my work and have ambitious career goals, it can be difficult for me to keep a healthy balance between work and my personal life. I have seen a negative impact on my motivation and focus when I ignore my personal needs. As a result, I have made it a point to focus on creating space in my schedule to focus on volunteering and spending time with my family.
There you have it. 5 amazing and full-proof examples that can help you get you through how to answer weakness in an interview.! For more such information, updates, and important study materials, make sure you browse through our plethora of blogs on the Tutoratti website! All the best!